The Purrfect Sitter Home and Pet Sitting Salem Oregon
The Purrfect Sitter Home and Pet Sitting Salem Oregon
My Rates – 2023
Drop-in visits
Each in-home visit includes:
Feeding and fresh water
Litter scooping/waste removal
Petting, cuddles, playing with your pet(s)
Administering medication
Grooming
The rates below include the following care for your home:
Mail & papers brought in
Blinds/shades rotated
Watering inside and out
Garbage/recycling to and from the curb
* $25 for one 20 – 30 minute visit daily (depending on the needs of your pets)

* $45 for two visits daily – If the first visit begins on the evening of the day you leave and the last visit occurs on the morning of the day you return, those 2 visits may be combined at the $45 rate.

* $25 for one 20-30 minute leash walk for dogs
* $40 for one 31-45 minute leash walk for dogs
Mileage surcharge
$5 fee per visit for clients who live 8-10 miles one-way from my home (zip code 97306). For 11+
miles, there is a $10 per visit surcharge.
Holiday rates
$5 fee per day incurred for New Year's Day, Easter, Memorial Day, 4th of July, Labor Day,
Thanksgiving Day, Christmas Eve & Christmas Day
Fees will be charged once daily for both drop-in and overnight visits
Overnight stay in your home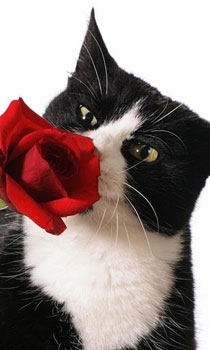 The overnight fee includes my arrival at your home in time for the pm feeding and ends the morning after the am feeding. Should you need an additional mid-day visit or an extra pm feeding on the evening of your return, there is a $20 fee. If you need special accommodation, please ask!
$65 includes feeding pm and am meals and one walk daily for dogs
All of the home care services listed in the daily drop-in visit are also included in the overnight stay.
For any of the above I do require a free in-home consultation. For appointments, special requests or rates, please contact Lynn Albright at
Email: lynn@thepurrfectsitter.com or call 805-320-8152.